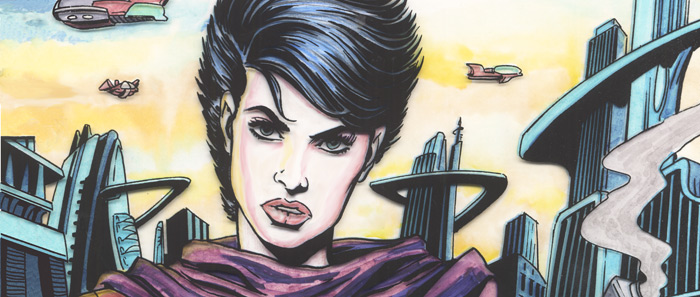 When Dark Horse Comics gave me the chance to create my own comic–a very rare opportunity at the time– it didn't take me long to decide what that comic would contain. I wanted a vivid, sci-fi setting, with stories that would range far and wide throughout its world and beyond, I would want to explore themes of violence within a culture, it's role, it's uses and its costs. And most importantly, I wanted a strong, female lead character who had depth and dimension that would grow deeper and stronger over time. My plan was to tell a life story stretched out over a long series of action adventures where the character's journeys are both inward and outward.
It was an ambitious and not particularly commercial plan at the time. But I thought it was cool then, (and do even more so now) and, bless them, Dark Horse was a wiling partner. We put out a solid run of books, and then I had to move on for a while to other projects. Over time, I've returned to the adventure of Mercy St. Clair as I could– in short stories and stand-alone tales. But until now that has been a pretty sporadic output. Which was frustrating to me as the creator, and a disservice to both Trekker and her followers.
All that has changed with the appearance of this website.
Trekkercomic.com re-presents all these original stories in order, many of them in their original black & white, with later tales told in color, and then continues with all-new adventures. Plans are well in the works for the return of Trekker to print starting in May, 2013 as well.
Join the TREKKERCOMIC FACEBOOK GROUP for conversations and to get the first word on all Trekker developments.
You can also visit the BLOG page for periodic Trekker-related news, my reflections on the creation and continuing production of the stories and other comics-related comments.
And check out some in-progress pages for upcoming tales at the SPOILER ALERT! page.
Hope you enjoy the ride. You can keep up with my other projects at:
~~Ron Randall