Where Does It Come From? It Comes From Mongo.
on
November 19, 2015
at
5:26 pm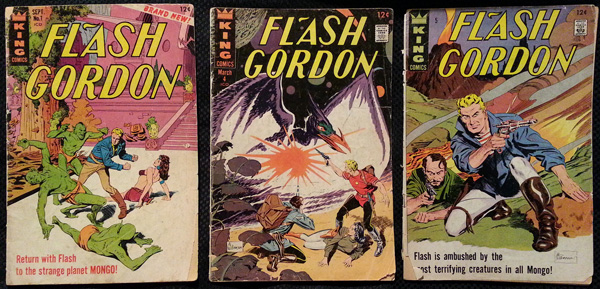 Well, now we are getting to it. As a very young comics reader, stumbling upon issue 5 of the King Comics Flash Gordon, drawn by Al Williamson in the mid-1960's was one of those "life-changing moments" that one hears about.
By that time, I had read my share of Might Mouse comics, Superman comics, Classics Illustrated, and even made my way to some of the "upstart" Marvel books. But I had never seen a book that read or looked like that Flash Gordon issue. No skin-tight costumes, superheroic flights amid modern cities, or punches that could take down a skyscraper. But stories told with flare, and art that breathed "high adventure" with every stroke of the pen or brush. That was the comic that made me say not, "I want to draw comics", but, "I want to BE THAT GUY."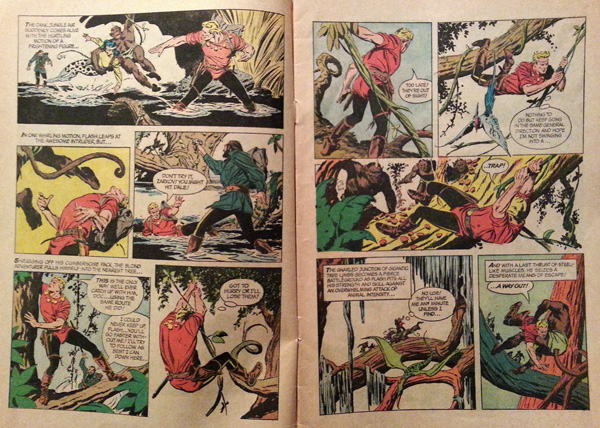 Never had I seen figures drawn with such grace and power, nor seen worlds evoked with such a range of textures and techniques. The folds of the clothing, the low-slung blasters, the boots! I was sold at my first glance of Flash, Dale and Zarkov slogging their way through the Mongo Swamps. And in many ways, I haven't looked back since.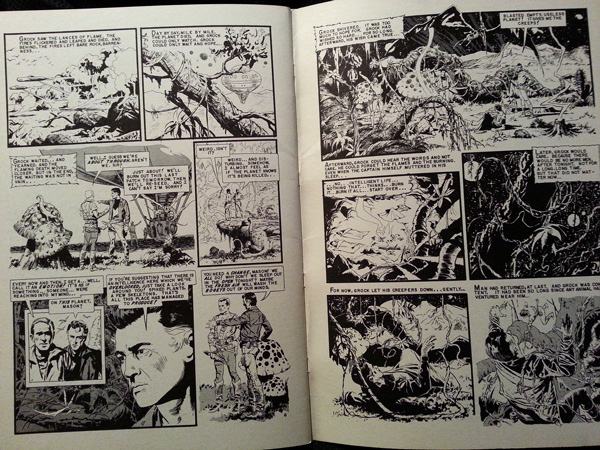 By the time I discovered Al's Flash Gordon work, he had already established himself as a consummate master of comic Sci-fi art. His affinity for the work was clear from his earliest stories for EC Comics back in the 1950's, where Al began as a teenager. Along with the other great EC artists of the day, Al raised the bar of what a comics page could look like to astonishing heights. And along the way, he created his trademark "sci-fi hero" look: Leather jacket, tight pants, boots and that low-slung blaster. Elements that resurfaced not only when he took on drawing Flash Gordon, but elsewhere in the science fiction world. You may have notticed that description fits another swash-buckling space rogue as well: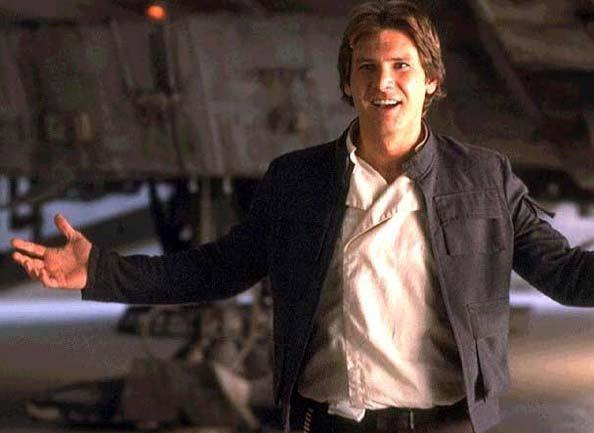 I wasn't the only kid who had been entranced by Al's vision and artistry as a kid. George Lucus must have been, too. Because it's known that Al was the inspiration behind Han Solo's look, and also that Al was George's first choice to draw the Star Wars adaptations and newspaper strip. Unfortunately, Al was obligated elsewhere when Star Wars was first brought to the comics page. But his schedule had cleared in time for the newspaper strip, where he brought his sense of magic and wonder and updated it with the extra space-hardware textures of the Star Wars age.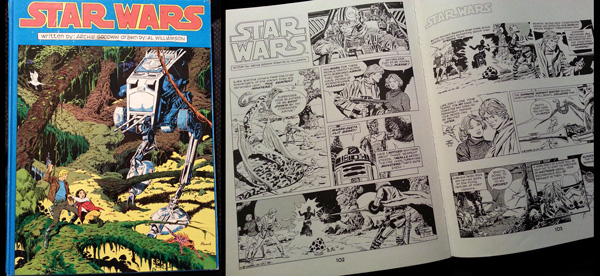 And now is a good time for a quick but special shout-out to a hero of all admirers of this classic science fiction art. Because Russ Cochran was responsible for collecting and printing some of the most handsome volumes of sci-fi comics art ever assembled. It's been a tremendous service to fans ever since. Not only did he scan and print from many of the EC original art pages and bring us the legendary EC Portfolios back in the early 1970's (long before there was an IDW or a line of "Artist Editions" books) but he also lovingly collected Al and Archie Goodwin's entire run on the Star Wars newspaper strip in a prime, hardcover set. Both of these spectacular bits of publishing have been at the heart of my comics collection ever since.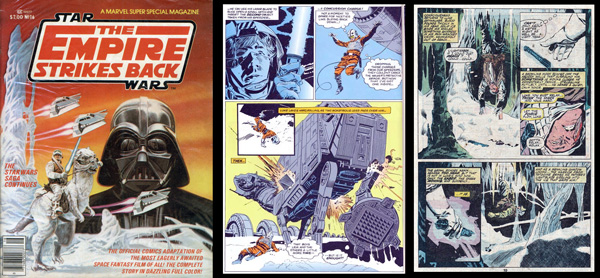 Al was also available by the time the second Star Wars movie adaptation, The Empire Strikes Back, was ready to go. So, in 1980, after I'd been distracted by other artist's work for a while, Al came roaring back onto my radar. It hit me just as hard as his earlier Flash Gordon work did, and as I was just beginning to get my professional career started, the timing made Al's "reemergence" onto my comic artist landscape particularly influential.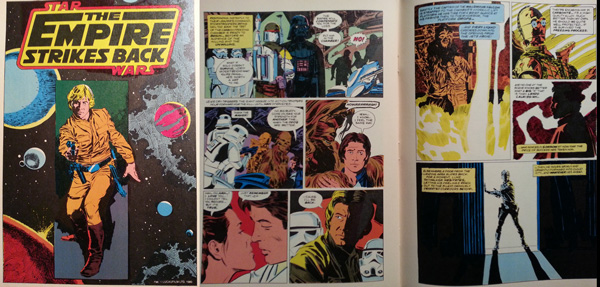 (That original magazine-sized special had wonderfully over-sized art and crisp printing, but comics coloring was going through a wretched state at the time. Fortunately, the work has since been reprinted in much more flattering versions. The earlier row with interior pages above are from those later versions; the images directly above here are from that original 1980 magazine. Al's elegant work was strong enough to survive even this jarring color handling.)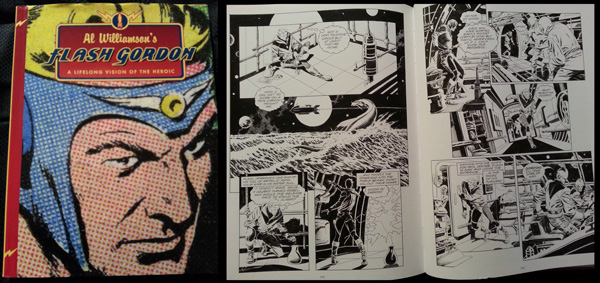 Finally, just a couple years back, Al's Flash Gordon work got it's own classy "Artists Edition" treatment due to the love and care of none other than Mark Schultz. Somehow Mark found the time to gather together the bulk of the original art of Al's entire body of work on Flash Gordon. This included early drawings, those seminal King Comic issues, the movie adaptation and the later work for Dark Horse and Marvel. It's an exhaustive, gorgeous work of love by Al on his favorite title, and by Mark, on an artist who has inspired us both for the length of our separate careers. Thanks to Mark, "Al Williamson's Flash Gordon, A lifelong Vision of the Heroic" has also taken it's place at the heart of my comics library.