Jekka page 45 Process Post
on
February 9, 2015
at
1:44 pm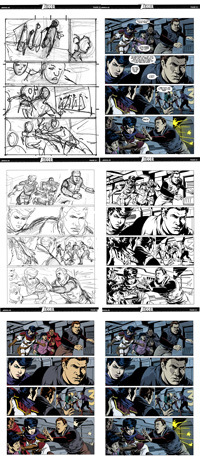 Each week on the Trekker Patreon Page I post a complete set of the process steps of the new page, as in the handy example to the left here, along with some possibly diverting comments about the thinking and work behind the crafting of the page, and the shaping of each story. I make this available exclusively to supporters at a modest $3/mo level or above. It's my gesture of thanks for those who are able to help support Trekker in an on-going way.
Producing a webcomic essentially single-handedly is a huge task. It's infinitely rewarding if you are working on a true labor of love, as Trekker is for me. But it's also demanding of time and effort. And it stretches a creator thin when they are also needing to produce other work to finance their lives at the same time.
That's why I'm grateful to those of you who lend extra support to free up more of my time to concentrate on Trekker and take on less outside work as I go.
Don't get me wrong, I view every fan or follower of Trekker as a true kindred spirit. And whether your support takes the form of saying "Hi" to me at a convention appearance, mentioning the series to a friend or to followers, or buying the books on line or in your local comics shop, I am grateful to you all for seeking out and embracing Mercy and her tales.
Stick around. I can't wait to share what's coming next!