OMNIBUS available for pre-order at 30% off!
on
April 8, 2013
at
12:01 am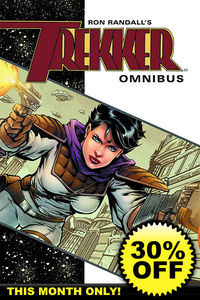 Hey everyone– the book won't be out until this August, but for this month only, you can pre-order the Trekker Omnibus at a whopping 30% savings here! I've worked long and hard with the good folks at Dark Horse Comics to make this volume the definitive and complete collection of all the original TREKKER stories. Selected stories are here in all-new color, other stories and materials appear with revised and up-dated color, there's a "sketchbook" section that is stuffed with rare and unseen sketches, pin-ups, unused pencil pages and more. And to top it all off, we feature a wonderful forward to the whole thing written by comic book great and all-around classy dame Gail Simone! But mostly, it's the ultimate way to experience these stories: assembled into one continuous whole where they can build on each other and achieve their full effect.
Getting all these original stories, over 300 pages, back into print, and then continuing on with all-new tales have been my two primary goals since launching this website. I'm thrilled to have it all coming together so beautifully.