New TREKKER story update! Colorful! Life-Changing!*
on
March 1, 2012
at
11:23 pm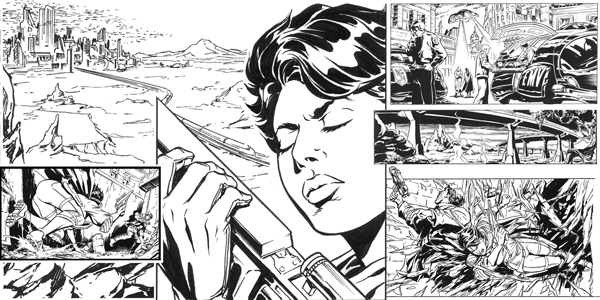 As I've mentioned elsewhere and earlier, I won't be posting any of the completed, inked pages from the in-progress brand-new Trekker story, "The Train to Avalon Bay" in the Spoiler Alert page because that really would be a spoiler. But the first 24-page episode is penciled and I am moving ahead on the inks with complete zest and gusto. You should try that yourself sometime. It's pretty swell. Above, at least, are a few slices from the work as it proceeds. It's incredibly satisfying to be bringing this story to life at last. It's a tale I've had in preliminary planning stages for over a decade. Like, an actual ten-year decade!
Plans are also in the works to bring full color to the new Trekker work, as well as to have some of the original stories colored for the first time. This is something I've wanted to do since first clapping eyes on the color work of Jeremy Colwell at last year's Emerald City Convention. I've talked up Jeremy before, and you can see his Trekker coloring on the "Monsters and Trekker" illustration in the first of these blog entries. Jeremy has a color technique and sensibility that are a perfect fit for the tone, look, and "texture" of the world that I have in mind for Trekker. I've very excited to see this all come together. We still have a little ways to go yet before that all happens, and I'll keep updating as things develop.
*These coming changes—first in bringing new coloring to the work and then eventually to brand new stories—will put me in a whole new ballgame for posting frequency. And as we are wrapping up The Babel Cannon tale today, it seems like a good point to shift to a schedule that will be more sustainable for the long haul. So, beginning today, trekkercomic.com shifts to UPDATES EVERY MONDAY, WEDNESDAY AND FRIDAY. So check in next Monday for the first installment of our next Trekker tale, "Vincent's Share". Mercy's out to settle a score with the impulsive fellow-trekker from Book Four:"The Rules of the Game" and, as usual, steps into a deeper mess that she was looking for. Of course, that's where Mercy St. Clair is at her best– so stick with us!