"The Chapeltown Kiss Print"– ask for it by name!
on
February 28, 2017
at
9:00 am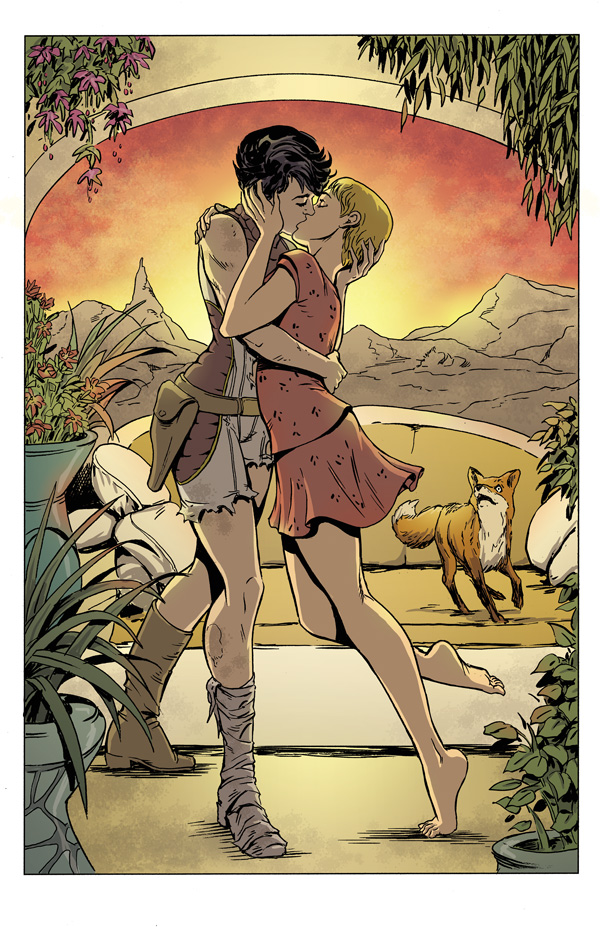 Hello, faithful TREKKER readers. As convention season approaches once again, I am excited to hit the trail. Starting next weekend at the Emerald City Comic Con, I'll have the brand-new book RITES OF PASSAGE with me, of course, along with plenty of other goodies. And there's one new item I'll be bringing along exclusively for those of you who follow Mercy's adventures here on the webcomic site. And that's a print of the "Chapeltown Kiss".
There's a particular Trekker time-warp that exists, at least for now, between the time the stories appear here on the website and when they come out in print through my good friends at Dark Horse Comics. Because of this, we here at trekkercomic.com are well ahead in the tale of those who wait patiently to experience the stories for the first time when they come out in the books. I love both kinds of readers, of course. The feedback and interactions that I have with you web readers is delightful and inspiring on a regular basis. At the same time, those who wait for the stories in print are experiencing the tales as I have always originally intended them. So, I don't want to risk any major "spoilers" to those patient readers.
Which brings us to that rather important "reveal" that comes on the final page of "Chapeltown", doesn't it?
Many voices have asked for this to be available as a print, and I'm happy to oblige. But, I don't want to display this image at conventions until the Chapeltown story is out in print. (Because, talk about a "spoiler", right?) And that won't happen until much later this year, at best. A conundrum! My inelegant solution is to have the print with me at shows this year, but not on display. So, should you wish a copy—either at 11X17 or 8.5X11 size, just ask me and I'll be happy to put one in your hands.
It's my fervent hope that Dark Horse and I will be able to accelerate the publishing schedule of the books so that this awkward timelag will soon be no more. And we are getting set to do so even now. But until then, I'd like to accommodate both types of Trekker's loyal followers.
Thanks for reading, thanks for supporting Mercy's adventures, and we'll see you down the road, either here each Monday, or this season on the convention trail!