Inks!
on
April 8, 2015
at
12:58 am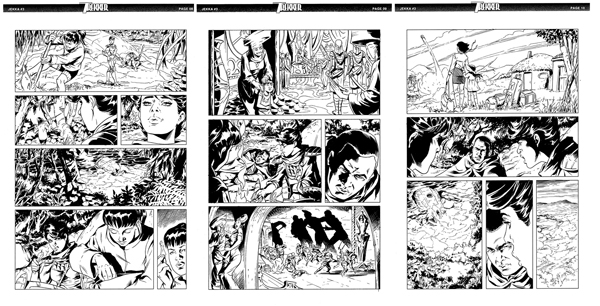 I've just completed these 3 pages of inks, and I'm taking the unusual step of posting them all here early because working on them brought something clearly to mind that I wanted to share directly with you– the kind people who have found and decided to follow the adventures of Mercy.
I did most of this inking over the last couple of days, when I had the chance to focus on Trekker more than I have for some time. It felt great. I'd like MORE times like these. Because those chunks of time when I don't have to keep stealing time away from other, paying jobs allow me get the work done both the best and the quickest.
Some of you may not know that no one is paying me to produce Trekker. You may not know how much time I put into writing and drawing the stories with all the craft and passion I can muster on each page. And you may not know that in addition to producing the stories, the task of promoting them and getting the word out about them falls on my shoulders alone. Frankly, it's a full-time job and then some.
And, since no one is paying me to do any of that, what makes those chunks of time possible is support directly from the readers of the series. Those links just to the right of this week's page lead to various ways you can contribute to Mercy's cause, whether that's through Patreon, or by buying the books, or with a direct, one-time donation. If you have the wherewithal, I hope you'll check them out.  Either way, enjoy this glimpse of an upcoming sequence, and thanks for following Mercy's continuing stories. I'm still having the time of my life producing them, and the best remains yet to come!