The Turning of the Page
on
May 15, 2013
at
6:08 pm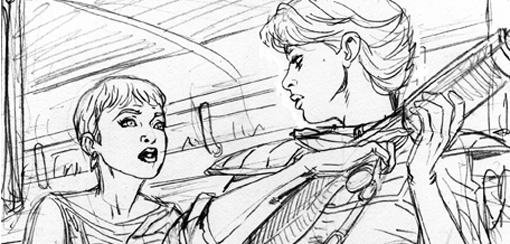 It's good to finally be on board the Train.
With "The Train to Avalon Bay" we open a new chapter in the story of Mercy St. Clair in more ways than one. First, it marks the beginning of the all-new, never-before published Trekker stories (and please note "Avalon Bay" begins being serialized THIS MONTH in the pages of Dark Horse Presents #24!). That's important news for long-time Trekker fans who have been waiting patiently for me to pick up the tale from where it left off years ago, when "Trial By Fire" first appeared as a stand-alone issue from Image Comics. And it's important for me, personally, because with this story I finally make good on all the promises I've made to fans over the years about my intentions to get back to Trekker. And it also marks the return to what has always been far and away my most rewarding and meaningful project. And for readers both old and new, "Avalon Bay" will mark another significant development in the lives of Mercy and her world.
While this tale was primarily designed years ago to re-introduce Mercy after yet another in the long breaks in her appearances, it was also planned from the beginning to be a next step in "upping the ante" in Mercy's emotional life, and also to set the stage for events which will pull Mercy into a broader, more complicated and dangerous world than she has yet encountered. All of that is a long way down the road at this point, but I can promise you, the tracks are all laid out, the hammers are ringing and the nails are going down. We'll hit some bumps and detours along the way to keep the journey surprising and interesting for both you and me, but we're bound for new, broad and exciting horizons. All aboard!!